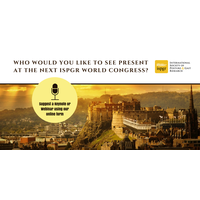 ISPGR encourages its members to suggest prominent colleagues in the field of posture and gait research for future keynote speakers and/or webinar presenters.
Keynote Speakers:
The 2019 Conference co-Chairs, along with the Scientific Content Committee will soon be securing keynote speakers for the 2019 World Congress, scheduled to take place in Edinburgh, UK (June 30 – July 4). The Keynote presentations are a series of invited lectures, delivered by a prominent colleague whose contributions to posture and gait research are widely acknowledged.
Webinar presenters:
ISPGR delivers a wide ranging program of online educational activities for active members. Our webinars enable a global platform for learning, and are a highly effective way for our international community to come together to tackle current "hot" topics, broaden knowledge, and offer insight from varying perspectives.
If you have any names that you'd like to put forward for consideration, please click here, and fill in the form. Individuals and topics outside the normal ISPGR community are encouraged.
---